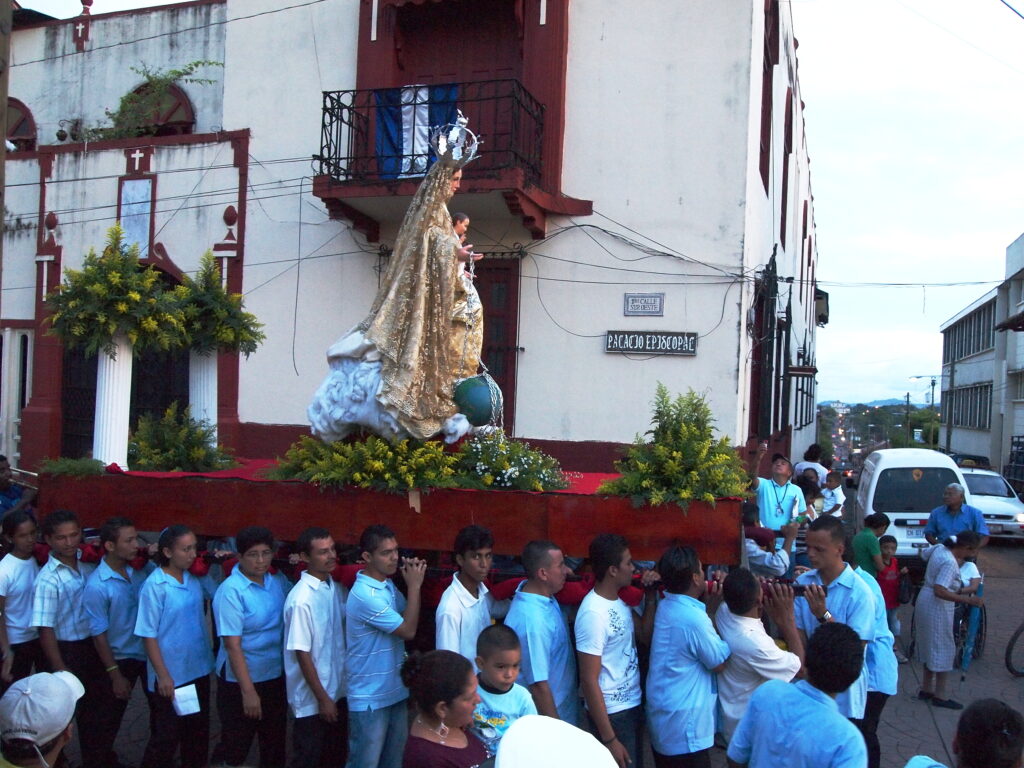 200年前に火山が噴火し、再び噴火した時の被害を避けるため、レオンの町は現在の場所に移転された。
そして、ニカラグアが1839年に中米連邦から脱退したとき、レオンはニカラグアの首都になったが、
グラナダという街と遷都を繰り返し、結局首都は二つの町の中間にあるマナグアになったそうだ。
中心地にはたくさんの屋台が出ていて、教会前の広場には写真撮影用の馬の置物が配置されていたり、
教会からマリア様が担ぎ出されたり、花火が上がったり。
Virgen de las Mercedes(恩恵の聖母)を祝う宗教的なお祭りだそう。
お祭りの定番と言えば、やっぱり食べ歩き。
バナナを薄く縦に切って揚げたバナナチップや、ハンバーガー、フライドチキンなどの屋台を巡って発見したのが、いとしのリンゴ飴!
Two hundred years ago, the town of Leon was moved to its present location to avoid damage when the volcano erupted again.
And when Nicaragua seceded from the Central American Union in 1839, Leon became the capital of Nicaragua, but
The capital was repeatedly relocated to a city called Granada, and eventually the capital became Managua, which is located in the middle of the two towns.
There are many food stalls in the center of the city, horse figurines are placed in the plaza in front of the church for photo ops, and
Mary is carried out from the church, and fireworks are set off.
It is a religious festival to celebrate Virgen de las Mercedes (Our Lady of the Blessed Virgin).
One of the most popular parts of the festival is the eating.
After visiting stalls selling banana chips, hamburgers, fried chicken, and other delicacies, I discovered candy apples!
Virgen de las Mercedes
恩恵の聖母
2010-09-23
at Leon, Nicaragua ニカラグア・レオン