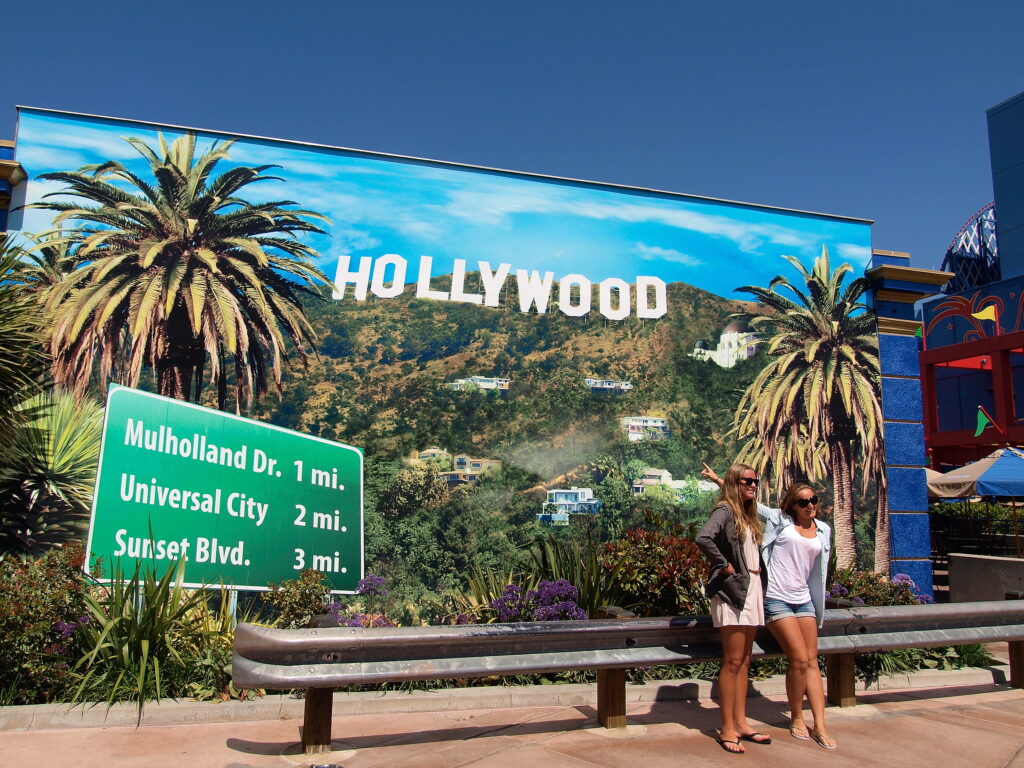 ユニバーサルスタジオ・ハリウッドには、「スタジオ・ツアー」と呼ばれる実際の映画スタジオを車で回るツアーがあ。
広大な敷地内に建てられた映画セットを見て回ることができる。
映画の多くの部分が実際の場所でなく、ハリボテのセットやスタジオ内で撮られている事を、このツアーで見るまで私は知らなかったのでなんだかあっけにとられてしまった。
というのも、実際の映画では本当にリアルに見えた景色が、肉眼で見ると「うそっぽい」からだ。
ニューヨークのセントラルパークとして使われているという芝生なんて、6畳くらいの広さだし、トレンディドラマ用の郊外の住宅街には造花が咲き乱れているし、ジョーズなんて大きなゴム人形みたいだ。
でも、それを限りなくリアルにするのが役者、大道具、音声、照明、ディレクターの力だと思うと、映画ってすごい!と思う。
一つ一つのシーンを限りなくリアルに創り、全体としての統一感も出さなければいけない。
2時間の映画を撮るには、頭の中にそれの何百倍の絵を描くのだろう。
それに、あんなにそっけないスタジオ内で気分を高めて演じる役者もすごい。
目線を上にすれば観光客で溢れるユニバーサルスタジオを前に、遭難した人を演じろと言われても、私にはとても無理だ。
スタジオツアーでセットを見て、映画に対する感謝と尊敬の気持ちがわいた。
Universal Studios Hollywood offers a "Studio Tour" that takes visitors on a car tour of the actual movie studio.
The tour allows visitors to see the movie sets that have been built on the vast grounds.
I was somewhat taken aback because I had no idea until this tour that many parts of the movie were shot on fake sets and in studios, not in the actual locations.
I was somewhat taken aback because the scenery that looked so realistic in the actual film looked "fake" to the naked eye.
The lawn used as New York's Central Park is about the size of a six-tatami mat, the suburban residential area for trendy dramas is filled with artificial flowers, and Jaws looks like a large rubber doll.
But the actors, props, sound, lighting, and directors make it as realistic as possible, and that makes me think that movies are amazing! I think, "Wow!
Each scene must be made as realistic as possible, and a sense of unity must be created as a whole.
To shoot a two-hour movie, you must have hundreds of times more pictures in your head.
And it's amazing how the actors can perform in such a simple studio with such a high mood.
I could never play a person in distress in front of Universal Studios, which is filled with tourists from all walks of life.
Seeing the set during the studio tour made me appreciate and respect the film.
Universal Studios Hollywood
ユニバーサルスタジオ・ハリウッド
2010-05-06
at Los Angels, USA