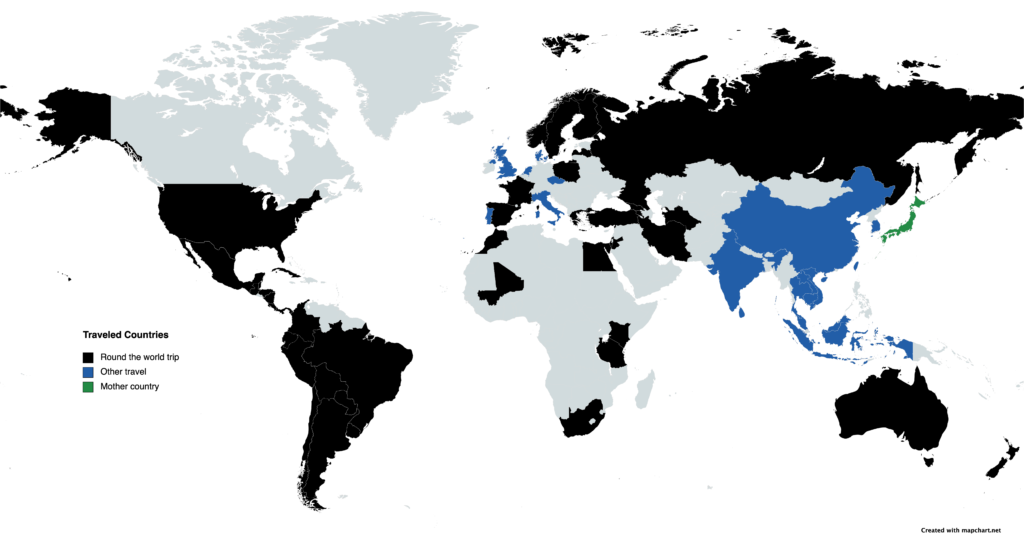 571日間、世界一周、世界中を旅した夫婦の物語。
私たち夫婦旅行の世界で出会った人々や街の様子を遺していきます。
旅の写真と日記をご紹介。
移住した沖縄・タイの様子もご紹介していきます。
沖縄・バンコクライフ
沖縄移住・タイ移住
世界一周夫婦旅行
15th.Mar.2010 – 8th Oct. 2011 571日間
オセアニア→USA→中米+キューバ→南米→南極→ヨーロッパ→アフリカ転々→中東→地中海→中央アジア
せっかく地球に生まれてきたのだから、その美しさをこの目で確かめたい。 そこに住む人々に出会いたい。そして、旅のワクワクを伝え、旅へいざないたい。
いざ、地球を遊びつくす旅へ
The story of a couple who traveled around the world for 571 days.
We will leave behind the people and cities we have met in our travel world.
Here are some of our photos and diary.
We will also introduce the situation in Okinawa and Thailand where we moved to.
Life in Okinawa and Bangkok
Moving to Okinawa and Thailand
Traveling Around the World
15th Mar. 2010 – 8th Oct. 2011 571 days
Oceania -> USA -> Central America + Cuba -> South America -> Antarctica -> Europe -> Africa -> Middle East -> Mediterranean -> Central Asia
Since we were born on this earth, we want to see the beauty of it with our own eyes. We want to meet the people who live there. We want to tell people about the excitement of travel and invite them to travel.
Let's go on a trip to play all over the earth!
96 Happy World Journey
Twitter @96happy